Game King offers an excellent selection of chocolate machines and skill testers.
Clean, modern design
Latest graphics attracts players.
Smooth surfaces are easy to clean. Flicker less fluorescent lights are bright and clear
Unique, robust construction
Designed for the repairer, not the manufacturer, so there's less downtime.
Australian made with quality components
Maximum uptime. Hi-tech components
Latest anti-jam coin chute, easy-clean coin mechanism and note reader for cash processing. No more coin jams!
Large front-mounted touch-screen display
Clearly communicates essential information to players
User interaction is logged
Giving you more data on how and when your machine is used
Satisfied customers keep coming back.
User friendly with better game play
Product sensor, so every player wins either a major or minor prize
Stock sensing controls automatically adjusts the height of the product tray so it always looks full
Climate controlled so chocolates are always cool
Innovative. 32" widescreen LCD display panel
Giving users an interactive experience before, during and after game play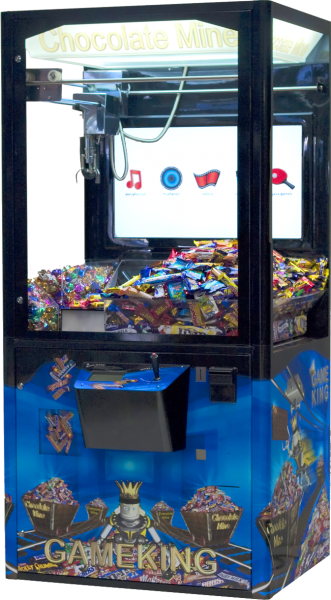 ---
Many Benefits of a Cadbury Chocolate Machine
The following is just a few;
Trusted Name and instant Brand recognition this also means as operators we are governed by Higher Authority (Cadbury) and therefore have strict compliance and license agreements.
Increases sales in other areas due to giving the customer the thought of wanting food. (Verified by Smiths Snack Vend QLD long-term sales increase).
Provides entertainment, which keeps people in the centre for longer and therefore increases turnover in many other areas.
Proven audience of all ages are attracted to this machine, as everybody loves chocolate. (80% of customers are aged between 30-75 yrs old).
Great value at 2 games for $1 and 5 games for $2
Latest design with outstanding reliability, accepts all coins from 10c eliminating breakdowns and change issues, also includes rolling LCD display
Fantastic presentation, to the extent probably the best-looking machine available in today's market.
We supply, stock, service, and maintain the machines by our local technicians providing unrivalled back up support and full service.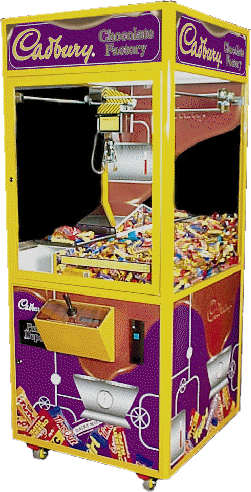 ---
SERVICE IS OUR SPECIALTY providing you with a 24 HR BREAK DOWN service
Many satisfied clients with good established long term relationships.
Lend Lease Management
MCS Properties Management
C B Richard Ellis
Jones Lang LaSalle
Central Coast Leagues Club
Sutherland District Trade Union Club
Pittwater RSL Club
Byvan Management
Centro Properties Ltd
McConoughy Properties
Club Macquarie
Tuggerah Lakes Memorial Club
St Mary's Rugby League Club
Plus many more centres.